Find out what makes Burley special
Unique Clay Creates Unique Pottery
The Clay

The Presses

The Process

The Craftsmanship

The Glaze
Our clay is locally sourced from a mine a few miles from the factory.
The raw material (clay) is delivered to our clay storage building for further processing.
Once the clay is washed and processed to remove any unwanted impurities (naturally found in its raw state) it is blended to the consistancy required for each product.
To guarantee the highest quality pottery our clay is processed using filter presses.
The raw clay travels through the Clay Plates (picutred) and squeezes all the water out of the clay. The plates are then put through an extruder and mixed, the clay then travels through the wad cutter to create chunks of thick clay for our Ram Press.
Burley utilizes several different production methods to produce our stoneware. From high-tech hydraulic and ram presses to the crafstmanship required in jiggering.
Jiggering is a process of forming pottery in spinning plaster molds and a tapered template to press soft clay against it. This is an acquired skill that requires years of apprenticeship to master. Watching these Jiggermen form our birdbath tops is so relaxing.
Our production methods differ significantly but share certain features - an emphasis on quality, efficiency, craftsmanship, and attention to detail.
One of the methods we employ today is a rarely found "lost art" for known as jiggering. This means of production is an old-fashioned, hand-made process we use to create several of our larger items, such as birdbaths, pedestals, and planters.
In this process, the jiggerman places a plaster mold inside a spinning steel drum; then adds an estimated amount of clay inside of the mold determined by the size of the piece to be manufactured.
As the clay begins to dry, the plaster mold draws the water away from the clay, releasing the clay from the mold. The ware is then removed from the mold and the rough edges are trimmed. This skill requires years of apprenticeship and is usually passed down to family memebers who have worked in potteries for generations.
The process of glazing has existed since the orgin of pottery making and it's never been easy. In the beginning, glaze formulas were developed by trial & error. The art of glazing has become a master's skill of mixing earthy ingredients, hand applying to the piece, and prefecting with the heat of the kiln. Each step in the glazeing process creates a finish that is a unique work of art.
We make about half of our glazes and source the rest from a company in Columbus, OH who develops and creates batches of their own glazes as well.
Then it's off to the dryers again! We have to make sure that every piece is fully dry before sending them into the kiln. If they are not dry enough they could explode during the firing process.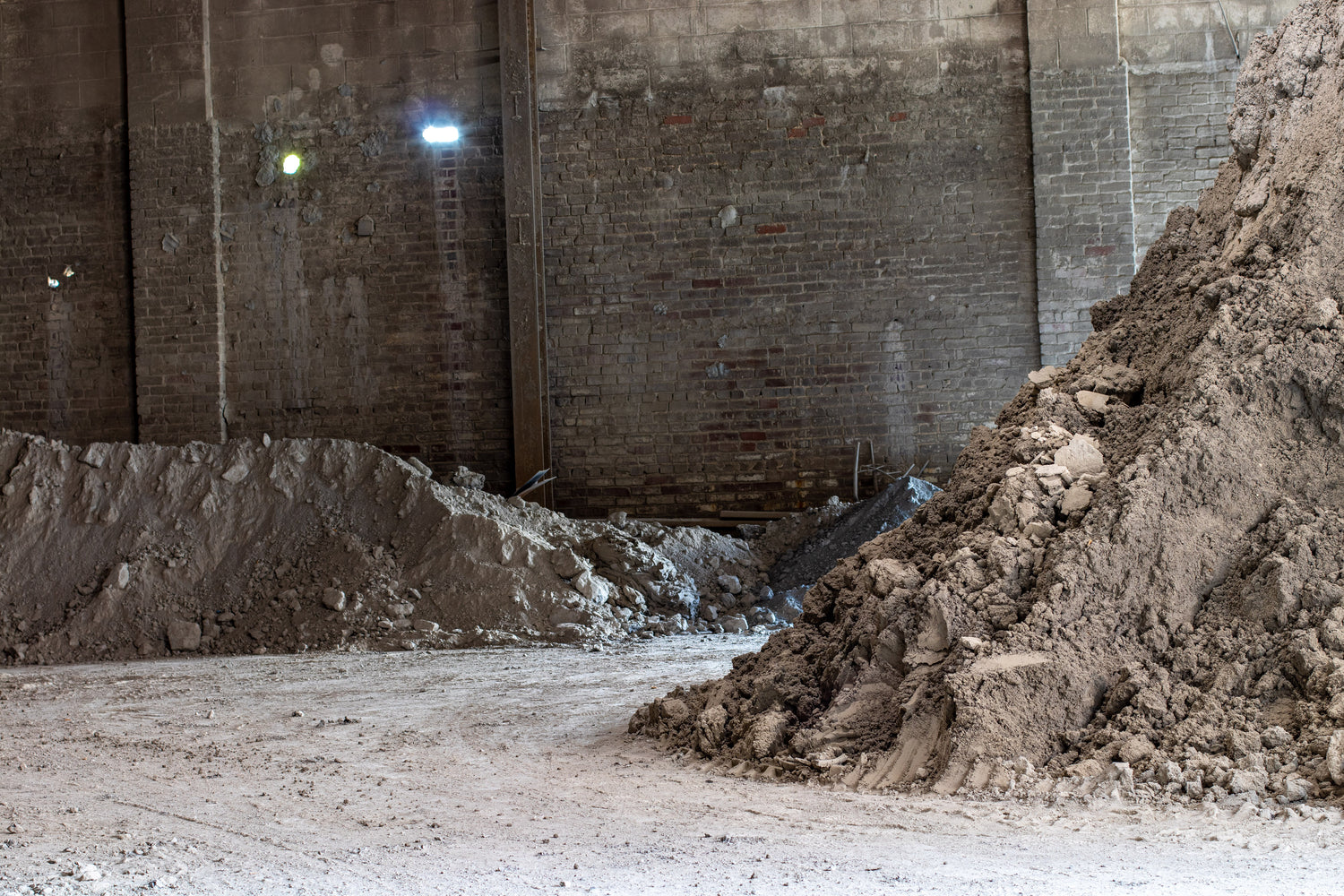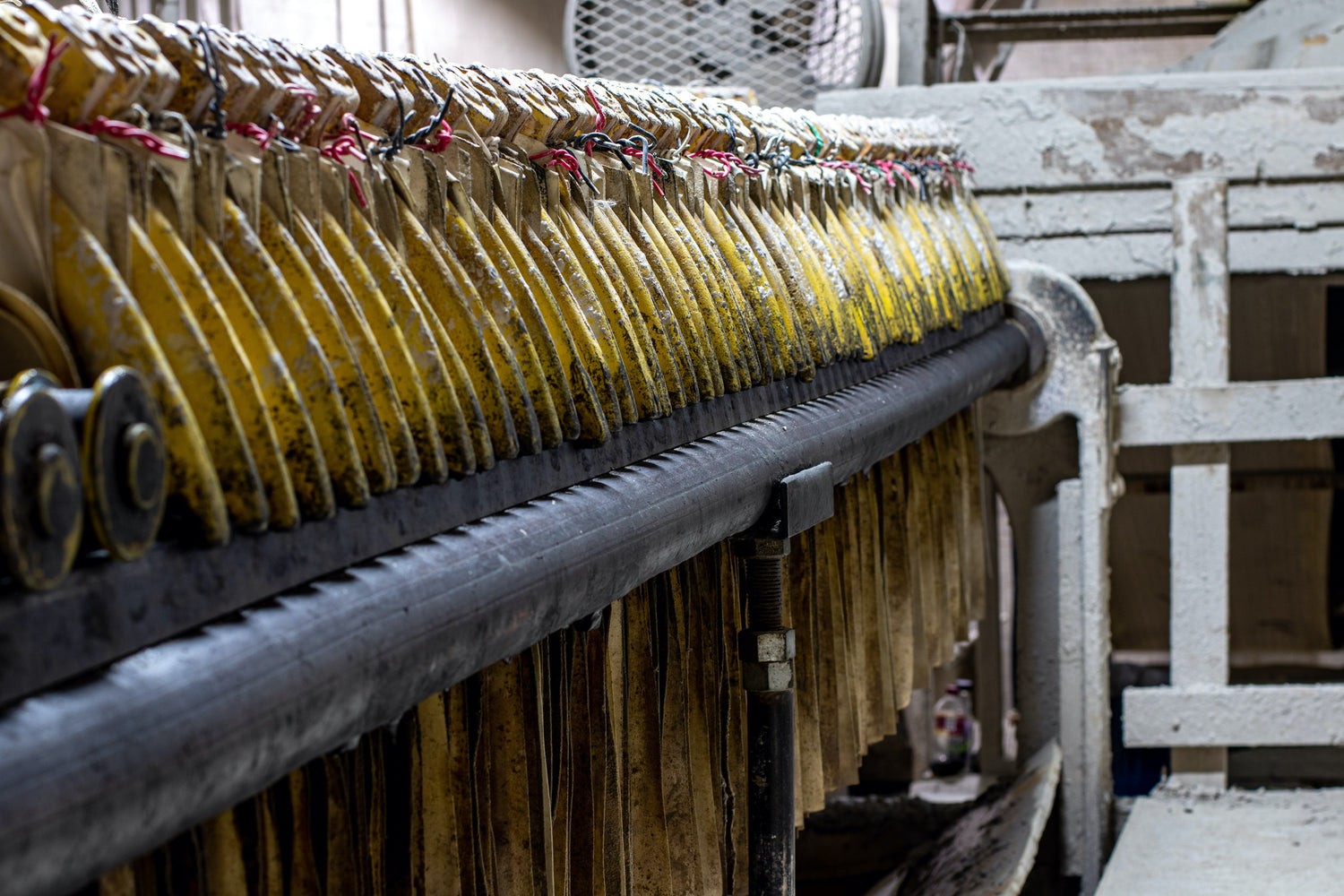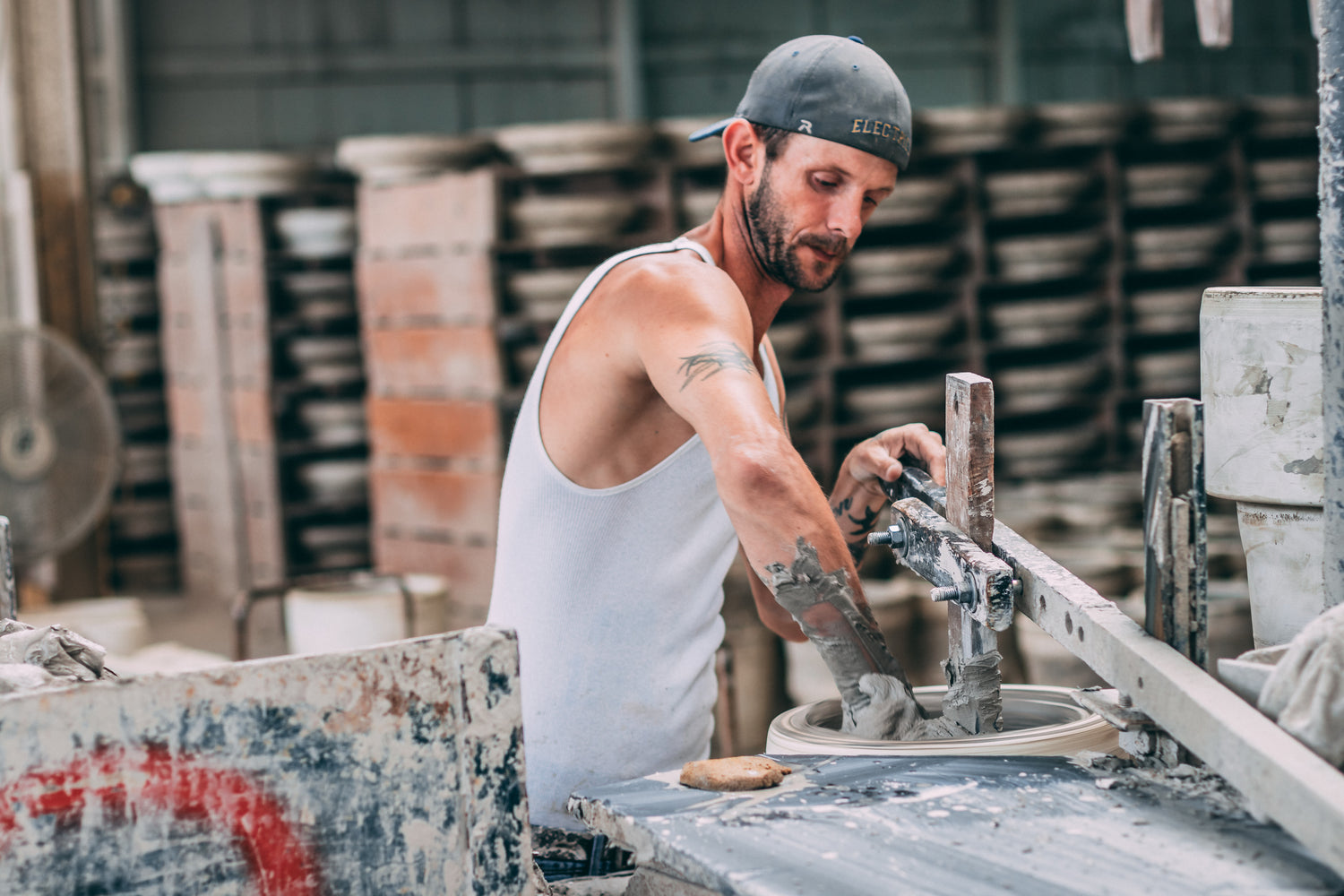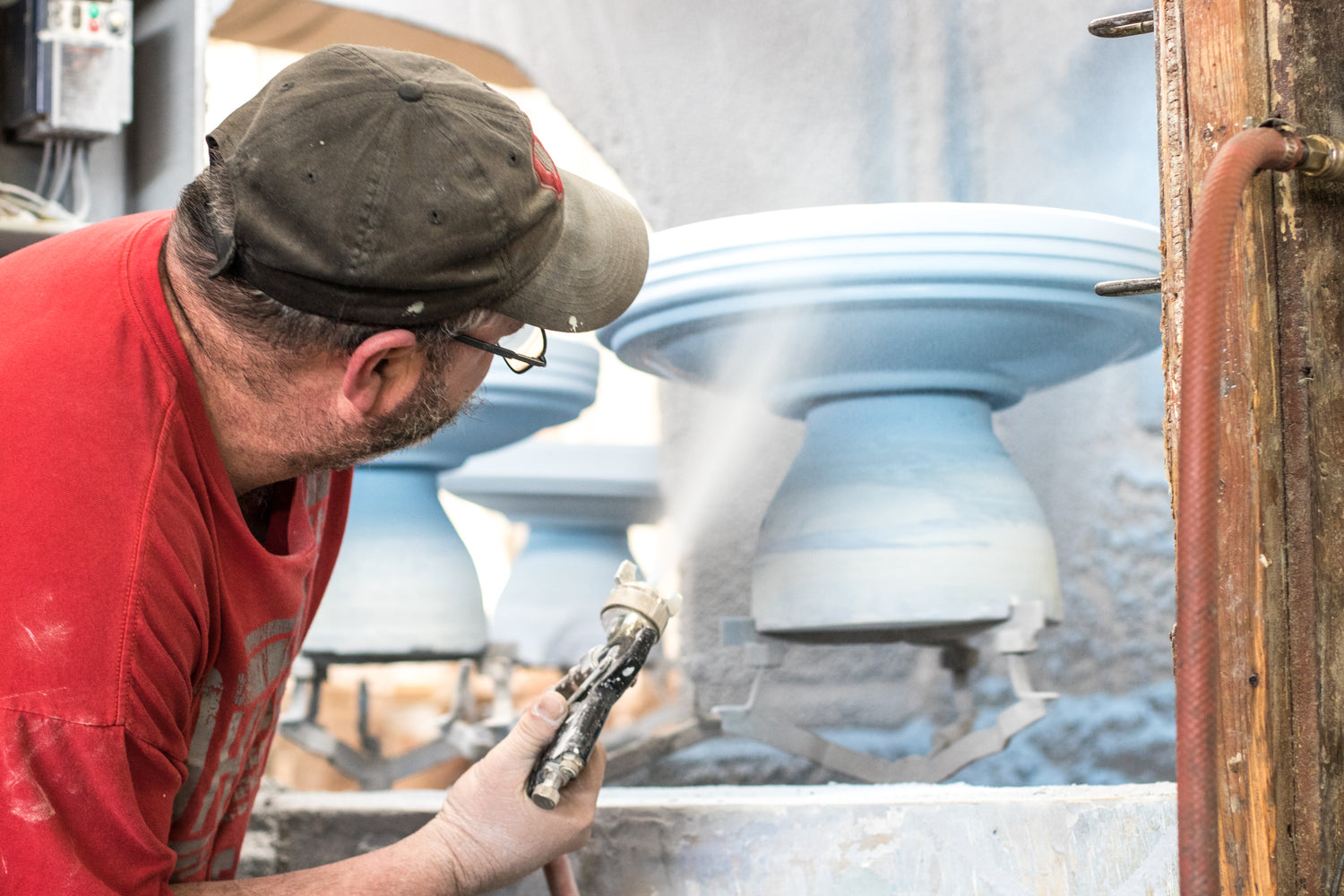 Round Kiln

Harrop

The Art

The Warehouse

Green Practices
Burley has several kilns at our factory, the most notable being a 90+ year old kiln from the 1930's, then known as the "Cadillac of Kilns".
This Allied Kiln was originally built for Nelson McCoy Pottery. McCoy used this kiln for decades until they closed their doors in 1990. The Round kiln, as we call it today, runs 24/7. It turns slowly allowing the operator to unloaded and load each car while it's moving. It takes 44 hours for a sigle car to make a full circle.
Our Harrop kiln was purchased from the Robinson Ransbottom Pottery factory after it closed in the early 2000's. It holds 5 cars and burns for 12 hours with an additional 1 hour for cool down.
The Burley factory has a vast amount of kiln capacity. Along with the round kiln and Harrop kiln, we also operate 2 long tunnle kilns and 3 shuttle kilns.
Burley has become known for our Hand-painted birdbaths and planters. Every piece is decorated and signed by the artist who paints it.
After they are painted the piece is hand aged as well to give it that perfect natural mossy feel.
These highly detailed and beautiful birdbaths and planters were designed for Burley by Pam Ballard. Pam is an artist by trade but a horticulturalist by love. Her artistic skills and deep understanding of nature have combined to create these timeless garden pices.
Burley's warehouse team handpicks every piece of pottery for our wholesale and retail orders and our palletizers carefully pack the pottery for safe delivery to garden centers all over the US.
Since our early days of manufacturing, Burley has had many ecological practices naturally in place. As as growing business, we are concerned with cutting our energy costs and use, as well as reducing our environmental footprint.
We use strict land management practices when mining our local clay and consciously work to reclaim and restore any land disturbed in the mining process. We have always recycled and reused water when making our clay; we also recycle waste clay back into production and use glazes that are both lead and cadmium free. Our shipping department resuses packing materials to reduce paper waste.
In addition, we produce clay filtration products that help other industries work toward cleaner manufacturing.